Freelance Graphic Designer / Digital Artist
JR89 • 31
Freelance Graphic Designer / Digital Artist
Last active:
Some photos of me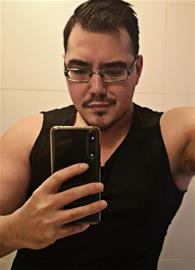 Hide photos



I'm here to
I'm here to meet girls of any age for dating, friendship, networking and more.
About me
Heyo



I used to have a long profile here... but I decided just to make a shorter version....

So! About "me":

My name is Jordy. I'm 31 years of age. Born and raised in Dordrecht, in the Netherlands.

I am however mixed race. Dutch & Thai in fact

So if you were happen to think I have "Asian-ish" looks, that's the reason why



I'm non-religious. Dont believe in any religions whatsoever, I DO BELIEVE in myself however


I have respect for everyone's religion, and I hope you can respect mine for not having one



As for my job/work? I'm a Freelance Graphic Designer. I mainly design poster for the entertainment industry (movies and TV) and often create artwork for DJ's and musician. And occasionally create websites too. And yes, I work from home pretty much all the time. Quite a nice perk of the job




- ☕ Coffee is love, coffee is life ☕ ❤

- 🏋️ Health is wealth! 🏋️
I'm a gym enthusiast! Ever since 2017 when I started to change my appearance for the greater good of myself.
I've gone down from 140+ (I was even heavier, not sure by how much) in 2017 to 95~100ish right now, in 2020.

Although I gained a bit earlier this year due to gym's closing with the Covid lockdown, i'm back in the gym now, burning the covid fats off!

I'm a good person to have a conversation with, and a great listener! (at least I think I am

)
So if u ever want to have a conversation, or learn more about me. Feel free to hit me up and ask!
About you
Just be you



But honestly, for now I'm mostly just looking for a new friend/friends. I don't want to be too optimistic and spout that I'm looking for the love of my life here, because I think it's hard to accomplish to label each other that half way across the world, on the internet no less (I'm not saying it's impossible though!)

Talk and get to know each other, have fun conversations with each other.. and who knows where that will lead too... right?



I like someone whom likes to have fun, playful, has a GOOD sense of humor, good conversationalist and can appreciate some of my sarcastic humor



But just someone who is first and foremost a kind, easy going



I'll see ya

Personal info
Appearance:
Nerd
5'11" (180cm) and muscular.
Occupation:
Freelance Graphic Designer / Digital Artist
Drinking:
Light / social drinker
Relationship status:
Single