Freelance Graphic Designer / Digital Artist
JR89 • 31
Freelance Graphic Designer / Digital Artist
Last active:
Some photos of me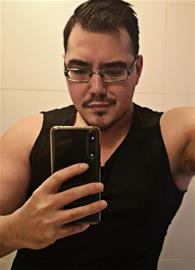 Hide photos




I'm here to
I'm here to meet girls of any age for dating, friendship, networking and more.
About me
⚠⚠⚠ ⚠⚠⚠ Warning! Long profile ahead! ⚠⚠⚠ ⚠⚠⚠


Before you go on reading my profile, I just wanna make it clear that i'm a STRAIGHT dude. So nope, I'm not interested in my own gender . No offense

just not my cup-o'-tea. 😅

—————————————————

Hey you! Thanks for visiting my profile. Here's a bit of text about myself



My name is Jordy.
I'm 30 years old, and I'm from the Netherlands, and I live in a city called Dordrecht.

I've got a mixed ethnicity. I'm half 🇳🇱 Dutch and half 🇹🇭 Thai.
So thanks to my Thai blood I can AND LOVE to eat spicy food!

I'm non-religious. Dont believe in any religions whatsoever, I DO BELIEVE in myself however


I have respect for everyone's religion, and I hope you can respect mine for not having one



As for my job/work? I'm a Freelance Graphic Designer. I mainly design poster for the entertainment industry (movies and TV) and often create artwork for DJ's and musician. And occasionally create websites too. And yes, I work from home pretty much all the time. Quite a nice perk of the job



I don't wanna brag about myself, because there's very little to brag about, haha

, but one my best personality traits is most likely my sense of humor. I have plenty of that. But I can also a bit sarcastic though! so u have to able to tolerate that



So, me in a nutshell:
I'm a INFJ-A (Briggs Myers test)
Smart, I think? — Funny, I like to smile, I like to make people smile — Shy... sometimes?and a lil bit of introvert~ish, but becoming very open to people — Sarcastic, just my sense of humor sometimes — Witty — Lazy, both my weak and strong point in life, muhaha — Kind — Easy to talk to — good listener — good friend/buddy etc!

Some of my hobbies:

- Workout in the gym 🏋️(I used to be quite overweight , but started to workout since a year ago, and I lost quite a bit of weight! 😊 from 132~ KG to 95~ KG currently! )


- Trying to be creative and design often. I'm lucky to say that my work is also my hobby
I'm behind the PC 💻 alot and occasionally I kill a few hours with some gaming too.

- ☕ Coffee is love, coffee is life ☕ ❤

- Watch TV series and films (Game of Thrones, Breaking Bad, Sopranos, The Office, Friends, Better Call Saul, Mr Robot - to name a few — film wise, sci-fi, comedy, thrillers, and most of all, films with good heart and brain, and I don't mid a good ol' plot twist).

- I love to hangout and chill too. Not a big party guy, not anymore at least. Those days are kind of behind me, but on occasion I like to.

- Listening to music (Hiphop, Rnb mostly. But I'm honestly open to most kinds of music) I can't work or excercise without some musing flowing through my ear canals



I'm a good person to have a conversation with, and a great listener! (at least I think I am

) So if u ever want to have a conversation, or learn more about me. Feel free to hit me up and ask!

Anyways, since you're reading all the way down here (assuming you didn't just skim through all the text), why not send me a message and say something, fun, clever, witty? No simple Hi's or Hello.. because.. that is too standard... c'mon


You've already went through the trouble of reading all of my text anyways



Cya and have a great day!

P.S. No I'm not a "fake". Not sure how I can be? Lol


P.P.S. Yes. I do have Whatsapp/Messenger/Viber/Line etc. But I prefer if we talk a bit first and get a bit closer before I just give it out after the first message

About you
Honestly, for now I'm mostly just looking for a new friend/friends. I don't want to be too optimistic and spout that I'm looking for the love of my life here, because I think it's hard to accomplish to label eachother that half way across the world, on the internet no less (I'm not saying it's impossible though!)

Talk and get to know each other, have fun conversations with eachother.. and who knows where that will lead too... right?



I like someone who is fun, playful, has a sense of humor, good conversationalist and can appreciate some of my sarcastic humor



But just someone who is first and foremost a kind, easy going



I'll see ya

Personal info
Appearance:
Nerd
5'11" (180cm) and muscular.
Occupation:
Freelance Graphic Designer / Digital Artist
Drinking:
Light / social drinker
Relationship status:
Single